PART 2: How to Make Twitter Work for Your #clothdiapers Businesses, Blogs, and Dealings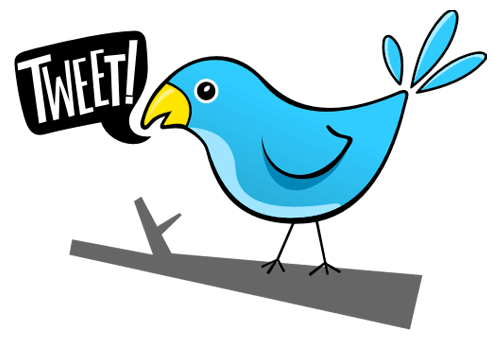 Nearly every Twitter user, whether a business owner, blogger, or just a regular user, loves to get people following their updates. After all, as we mentioned in yesterday's feature, Twitter is the ultimate in modern connectivity and micro-publishing, giving you a venue to share anything and everything that crosses your mind (in 140 characters, that is).
So, after reading yesterday's feature, you may now be the proud owner of a business Twitter account, having buffed up on the Twitter lingo and best practices from their online tutorials. If so, you're probably just twiddling your thumbs now, waiting to reap the fiscal and interpersonal rewards of this newest social networking platform. Well, it's not
quite
as simple as that--there are still a few tips left to share with you that can help you to make the most of what Twitter can be for you and your baby business ventures.
The Do's and Don'ts of Twitter Business Use:
- Do a good job on your profile page.
Don't leave your profile with that generic colored Twitter egg as your photo. One of the first things that you do when you sign up for a Twitter business account should be filling in all the information on your profile page. Upload a thumnail sized version of your logo as your profile picture. Use punchy colors and shapes that will stand out when people glimpse through their live feed, so that they can pinpoint your tweets quickly if need be. Fill out the description of who you are and what you're about--include key words like "cloth diapers" right in your description so that you attract new followers who are interested in the same topics as you. Include a link to your webpage from day one so that people can find out more about you.
- Don't overtweet the personal.
In repeating a key fact from Part 1 of this series, keep personal tweets relevant to what you are attempting to accomplish with your overall business strategy. Don't give us the daily rundown of your meal menus or an update on your bad hair day. For cloth diapers business owners or bloggers, remind us you are a real mom by giving updates on a new diaper you're trying out on your little one, on a new stain-fighting laundry technique you came up with, or about the latest baby milestone for your family. These thoughts are relevant both to your business strategy and in connecting with others like you, and when used in a focused, balanced way, they'll help people relate to you.
- Do mention people and businesses whenever you get the chance.
Twitter users love nothing more than to log in and see that people have been talking about them while they were gone. Since @mentions are reported to the person mentioned each and every time they're used, mentioning people can be a great way to catch their attention. Mention brands and companies you love (and be specific in sharing just what's so great about them). Chances are it'll make that company take notice, follow you back, and maybe even retweet your flattering compliment to their own stream of followers. Many favors on Twitter are often reciprocated, and if you mention others, you'll find they start to mention and promote your name, brand, or site more as well.
- Don't be a Debby Downer.
It's easy, in the course of social networking, to allow your public accounts to become public vent and complaint forums. But, truth be told, although it might momentarily make you feel lightened, no one really cares to read your neverending strands of griping and moaning about how little sleep you got or how bad the service at the neighborhood coffee joint was that morning. All you'll accomplish with those types of tweets is leaving a bad taste in peoples' mouths and perhaps losing some followers in the process.
- Do follow people liberally.
For a business account, follow as many people as possible. When someone out there follows you, follow them back. Scour the Twittosphere through hashtag and username searches to find people with similar likes and updates as you. Follow other cloth diapers bloggers, manufacturers, and vendors. See people with the words "fluff", "diapers", or "CD" in their username? Chances are they love fluff just as much as you do.
If people are talking about CDing, there's a good chance they'd love to read your tweets, and, if you follow people, there is a terrific chance that they'll follow you back. Following people is one of the best way to get followers for yourself. If you find your stream of updates is getting too clogged with all the people you're following, I would suggest setting up a personal Twitter account on the side just for you to read the tweets you're actually interested in. Your business account should primarily be about building a strong following of people and not about making it to the bottom of your live stream of updates each time you log in.
- Don't agonize over losing followers.
Twitter followers are fickle. They may be fiercely loyal to you and your cause one moment and abandon you the next. That is the nature of the immediacy of this beast, so don't let it get you down. Remind yourself that if someone followed you for a certain period of time, your tweets must have helped them out, amused them, or kept them company for a time when they needed them, but perhaps they've moved on personally. That's it. Don't get hung up on it.
- Do use link shorteners.
Oftentimes new Twitter users don't realize that there are such things out there as link shortening services, and they'll use up the majority of their 140 characters on sharing a link. Not only is it a waste of space, but it looks messy clogging up someone's feed with all those symbols. Hit up a shortening service, such as
bit.ly
or
ow.ly
to convert a long link into a condensed version. Make sure you use part of the tweet to explain what the link takes people to, or no one will click it!
- Don't overtweet the same message.
Although restating a tweet from time to time can be beneficial (retweet a popular item in the morning, afternoon, and evening to catch different crowds of followers, for example), don't overdo it. For users who read your updates regularly--say many times a day from their mobile phones--it'll get tiring reading the same old tweets time and time again, and you'll risk having them unfollow you or ignore your tweets if they feel they're getting redundant.
- Do write tweets that are 'Retweetable'.
From time to time, share tweets with the sole thought in mind of making them things that people might be prone to wanting to retweet. Talk about broader or more interesting topics. Link up to articles with groundbreaking news stories or cutting edge facts about diapering, babywearing, or organic living. These are the types of things that people will easily retweet. Also, keep in mind that in order for users to pass on a "quoted RT" (the older style which I personally still prefer to use), you'll want to NOT max out your 140 character limit when writing the original tweet, as your followers will still have to add the characters
RT @YOURNAME
in front of the message to retweet it. Write shorter tweets so that they can purposely be retweeted in this fashion.
- Don't be a wallflower.
Twitter is not an spectator sport. If you sit back and merely read your updates or throw up a simple tweet once a week, your account is never going to catch on with your followers. From day one, send out tweets that invite public conversation. Your first tweet should be, "I just joined Twitter! Love #clothdiapers! Who should I follow?" You'll be shocked at how many replies and followers that one simple statement will get you. And when people reply or mention you, write them back, thank them, or retweet their interesting posts too. There's nothing worse than a Twitter snob who thinks she's above replying to you or being reciprocal once in a while (after all, who do you think you are--Oprah?). Be personable. Make new friends. Get involved in this microchasm of a community.
- Do ask for help when you need it.
No one likes a know-it-all. Contrary to what Simon and Garfunkel sung, you are not a rock; you are not an island. If you have a question about Twitter, cloth diapers, or about anything, really, throw it out there to the Twittosphere and ask people to respond with feedback. Though incredibly vast, Twitter still functions a bit like a small town in the sense that folks love to help each other out with solutions to their problems. Have a rough case of the stinkies with your microfibre diaper inserts? Ask Twitter for advice. Need help getting 5 more followers for your Facebook fan page? Ask Twitter to jump on your bandwagon to help promote your cause. Want people to retweet your contest announcement? All you have to do is ask, and you'll be surprised just how many people take you up on it!
- Do use keywords and hashtags in your tweets
. If you write strategic tweets, you can be assured that new followers will find you daily through Twitter's search function. But keep in mind that you can't search long strands of words effectively through Twitter, so that is where hashtags came in. Cloth diapers businesses, bloggers, contest hosts, and enthusiasts, tag their CDing posts with the hashtag #clothdiapers -- just try it: log into your Twitter account right now and in the search box, type #clothdiapers. You will see hundreds of results gathering all the tweets on that topic into one place. Run down the list and you'll see hundreds of potential new followers (have you followed them yet?) and ideas for things you could be writing about, replying to, and retweeting in order to jump into the community. Hashtags have become the keys to founding miniature Twitter communities. Check out the hashtag #bfcafe. More a club than a true search term, moms from all over hook up with the "breastfeeding cafe" for tips, advice, sympathies, and relationships surrounding the topic of breastfeeding. It became a favorite cyber "hangout" of mine every time I was nursing my newborn daughter (all the time). You really get to know people in these communities--make sure you plug into a couple of them so people get to know your name as well. Monday nights at 8pm CST, the #clothdiapers gang have a group chat--kind of like a huge talk on the phone party lines of old--about CDing but also just friendly topics. Lots of us have met each other that way. If your little ones are in bed one of these Monday evenings, check it out!
Overall, Twitter is a huge "bang for your buck" type of media and marketing service. For a free cost and for very little effort in terms of startup and maintenance, Twitter can pack a real punch in terms of promoting your products, getting your name out there, and driving traffic to your website. Just make sure you maximize it to its full potential and commit to getting involved, even if for just 10 minutes a day at first. I'd love to follow each and every one of you out there--drop a comment here, or send me a mention or Direct Message on Twitter (
@EverythingCloth
) and I'll look you up!